Khwab Mein Badam Dekhne Ki Tabeer
خواب میں بادام کا دیکھنا
To See Almonds in Dream
Seeing almonds "Khwab Mein Badam Dekhna Ki Tabeer" is indeed a lucky one. According to the Islamic Interpretations, you will get benefits from your friends and relatives as well. You will see getting the earrings from unknown sources. Tabeer of this khawab is prosperous.There is another sign that parole who see this...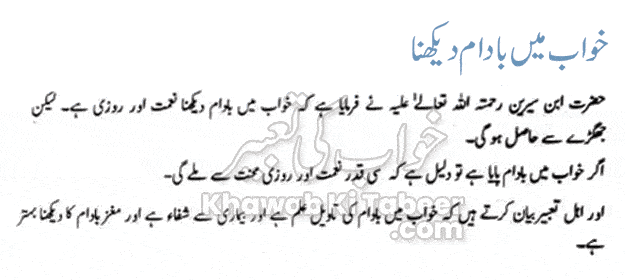 Badam Ka Chilke Dekhna ya Roghan Dekhna
Hazrat Ibn-e-Sirin k mutabik khwab mein badam ka chilka dekhna kisi bakheel aadmin ya shaks ka koi cheez aap ko daina hai. Agar yeh dekhe k badam ki giri se tail nikala hai to khwab dekhne waley ko is k mutabik faiza ho ga.

Hazrat Jabir R.A K Mutabik Badam Dekhna Maal Hai
Hazrat Jabir R.A kehte hein k khwab mein badam dekhna maal ya nemat hai or agar badam post ya chilke k sath dekha hai to maal sakhti k sath aey ga.

dream will get wealth and pleasure as well. You can see further interpretations as well in the given section by just clicking on the letters of the alphabet. In case of a bad dream, we recommend you to read the name of Allah Almighty and pray for good things.When someone sees almonds in the dream, it reflects that the person will get many benefits from his friends. Other explanations reveal that person will find his livelihood from unseen resources. It also reflects that person will remain happy throughout the life.
(ب) سے شروع ہونے والے تمام خواب
Comments
اپنے خوابوں کی تعبیر پوچھیں